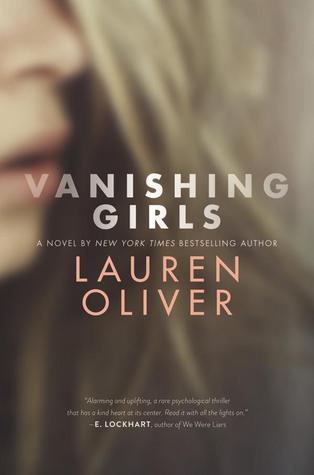 Vanishing Girls
Lauren Oliver
Series
: N/A
Genre
: Young Adult, Contemporary, Suspense
Publisher
: HarperCollins
Rating
: 3.75 out of 5 stars
Goodreads
I know I'm super late to the game with
Vanishing Girls
but just be proud that I got around to reading it before
Replica
comes out. I'm so happy I finally read it because it definitely pumped me up for Lauren Oliver's newest book and had me reeling at the ending.
Lauren Oliver's writing has always interested me -- I think you can definitely see it develop and mature with each book she publishes, while still keeping her own recognizable voice. In
Vanishing Girls
, the writing was as compelling and poetic as I expected it to be, and also more descriptive/detailed than some of her previous books. It made for an excellent novel and an immersive read. I found myself going through page after page without realizing how much I'd read. I think the writing style threads the whole book together and brings the story up a notch, making it more interesting to read.
The book itself is about two sisters, Dara and Nick, once thick as thieves, now barely speaking in the wake of a terrible car accident. It's told in both dual points of view and in two time frames -- before the accident and after. It took a while to get into the whole point of the story and for the plot to really go anywhere other than point of view shifts describing summer jobs and resentment. And while I did really enjoy all that insight into our characters and didn't feel bored or anything, I
was
wondering where the story was going. Fortunately, the story did go somewhere, the pacing was just kinda slow until the ending. I think it's around the halfway point when things start really ~happening~ but I could be wrong, it's been a few weeks since I finished it.
Because the book takes its time telling the story, it gives us room to get to know our characters. The characters in this book were truly well-developed. Dara and Nick are telling the story, so they get the most focus and it was such a raw and real relationship Lauren Oliver showed. They both thought so highly of the other, thinking the other couldn't possibly share the sentiment. The relationship was so honest and then after the car accident it was heartbreaking exploring how each sister felt and couldn't share with the other. The side characters were all great too. Parker, the Boy in the story, was cute and funny and I appreciated that he wasn't some random insta-love insert, or that his love didn't immediately Fix All Problems or something else lame. Everything with him was so realistic and so well-done. Nick's coworkers were all great too and I enjoyed seeing her make new friends and seeing them become close to her as the book progressed.
I didn't see the direction the ending was headed which surprised me a little because I can usually figure this type of stuff out. I think I was just so engrossed in the book that I didn't have room to think about anything other than the information presented at face value. Personally, I thought the ending was shocking and unexpected and brought closure to the whole story in an interesting way. I can understand that others might find it gimicky or hackneyed -- and I definitely agree that there is a fine line -- but I thought it worked for this book.
Also, some of the other factors that were explored more towards the end seemed a little disjointed, like the photographs and the necessity/significance of Madeline Snow. However, overall, I really enjoyed the book and spent a lot of time engrossed in the story. I also appreciated that the overarching theme in the book always went back to their sisterhood. I think Lauren Oliver has a beautiful talent for prose and for writing characters and I can't wait to read more from her.
- Noor
What are your favorite books about siblings?
Let us know in the comments!