Top Ten Tuesday is a meme hosted by
The Broke and the Bookish
. Here at We Live and Breathe Books, two of us choose five books each week. This weeks topic is...
2016 releases I meant to read but didn't get to (but TOTALLY plan to)!
I was so excited about this book when I heard about it, but I just never got around to reading it. I'm a huge fan of fantasy books, and this one sounds wonderfully dark. I love the idea of alliances being formed and only one sister being able to take the throne. I've heard a lot of great things about
Three Dark Crowns
, and I really want to find out what all the hype is about!
Girl in Pieces
Kathleen Glasglow
Publisher
: Delacorte Press
Goodreads
I actually started reading
Girl in Pieces
during the summer but then never got around to continue. What I read of it, however, was absolutely amazing. I love the writing style of the book - it's so raw and it doesn't pull any punches. I also really like that this book isn't about self harm in itself and doesn't romanticize or sugar coat it - it's the painful truth of what happens after. I'm definitely going to finish this one when I get a chance!
The Forgetting
Sharon Cameron
Publisher
: Scholastic Press
Goodreads
I was really interested in this book when I first heard about it, but I'm even more interested in it now that I've been watching the current season of Teen Wolf. Seeing the town Canaan in the synopsis got me really excited to find out about how this town works, and the mystery behind the main character not losing her memory.
The Female of the Species
Mindy McGinnis
Publisher
: Katherine Tegen Books
Goodreads
I wasn't exactly sure what to think of this one at first, but after seeing some reviews that refer to the character as a sort of feminist vigilante, I'm really interested to read it. I'm a huge fan of the show Sweet/Vicious, and this books sounds like it has a similar vibe.
The Delphi Effect
Rysa Walker
Series
: The Delphi Trilogy, #1
Publisher
: Skyscape
Goodreads
The Delphi Effect is another book that I started reading but didn't get a chance to finish. I'm really intrigued by the concept of a medium who sort of gets possessed by wayward spirits, especially given that this one has a mystery involved.
Real talk, there are like 5 million 2016 releases I haven't gotten around to reading. Just for reference, this top five is like "2016 books I keep thinking about and telling myself to read over and over but still don't because I'm a pile of trash,"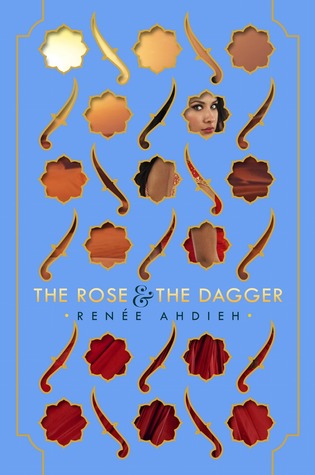 The Rose and the Dagger
Renee Ahdieh
Series:
The Wrath and the Dawn, #2
Publisher
: G.P. Putnam's Sons Books for Young Readers
Goodreads
So, I was hella late to the party when I read
The Wrath and the Dawn
, and this had already been released by the time I did this past summer so I actually have no idea why I haven't read it by now. I felt such a high after reading
The Wrath and the Dawn
and I really wanted to continue that momentum so I remember going to Barnes and Noble specifically to buy this, but I think I impulse bought something else, and then my semester started right after and I slowed down on reading and I just never got around to it. I'm definitely gonna read it soon though because I almost always love the 2nd book in a series the most and with the first book being so beautiful, I'm excited to see how
The Rose and the Dagger
holds up.
Salt to the Sea
Ruta Sepetys
Publisher
: Philomel Books
Goodreads
I keep changing my mind about reading this one and I always think about reading it and then I think I don't really want to read a historical fiction book right now and then I think about how much people like it and I kinda flip-flop until I decide I'm not "in the mood" and pick something else. I feel like I actually will enjoy it, so I
do
want to read it this year, but I spent 2016 putting it on the back burner so I hope I finally get around to it!!
The High Mountains of Portugal
Yann Martel
Publisher
: Spiegel & Grau
Goodreads
Yann Martel's
Life of Pi
and
Beatrice and Virgil
are two of my favorite books and show how expansive his skills as an author are. This story -- which is
three
stories, decades apart -- presents an intriguing premise and when I heard about it I knew it would be a book I'd be looking out for. As you can see by its inclusion on this list, I did not achieve my goal of "looking out" for aforementioned book. My only excuse is that this is who I am as a person and "organized tbr lists" are to me what garlic is to vampires. As I will say about every book on this list: I hope to read it soon.
Gemina
Amie Kaufman and Jay Kristoff
Series:
The Illuminae Files, #2
Publisher
: Knopf Books for Young Readers
Goodreads
This is actually probably the worst one because I was most anticipating this one. Like, after I read
Illuminae
I was so
pumped
for the next book and so stressed that I wouldn't be at BEA and have the chance to get an ARC and I agonized over the wait for this book and I literally bought it the day it came out and then I just didn't read it????? I wish I could tell you why. Like, why am I like this???? I swear I
will
read it. By the end of February. I promise. (Don't worry I hate myself too)
Heartless
Marissa Meyer
Publisher
: Feiwel & Friends
Goodreads
Who doesn't love good old Marissa Meyer and all the fun stuff she does with our favorite stories? If you do not already know,
Heartless
is an
Alice in Wonderland
retelling. I seriously love
Alice in Wonderland
so much it's a little bit of a problem. I'm not as obnoxious about it now that I'm not like 16 anymore but the love is there, fret not. So deep down, it might be that I have not read this yet because I am overwhelmed at the prospect, but it also might be because there are so many books and so little of me. Who knows.
What 2016 releases did you mean to read?
Let us know in the comments!
Save
Save