As 2016 comes to an end, we decided to reminisce on our favorite releases this year. There have been so many great books, whether they were anticipated sequels, series endings, or new series beginnings. To celebrate these loved releases, (and especially since we were lame and didn't do a list last year), we've decided to share our best of 2016 picks with you!
So, below are the five books I picked for this post, but since no one else wrote down
Gemina
by Amie Kaufman and Jay Kristoff, I'd like to give that one a special shout out because it was AMAZING.
The Graces
Laure Eve
The Graces, #1
Publisher
: Amulet Books
Goodreads
Since witches are my favorite paranormal "creatures," I was very excited to read
The Graces
, and I absolutely loved it. There's something really mesmerizing about the way it's written, with a narrator who hides things from both the reader and herself - in fact, starting from the beginning of the book, we don't know the narrator's real name. This book was so wonderfully creepy and mystical, and I can't wait for the next one.
Nevernight
Jay Kristoff

The Nevernight Chronicles, #1
Publisher
: Thomas Dunne Books
Goodreads
After loving
Illuminae
and
Gemina
, I was really excited to read
Nevernight
, and it did not disappoint. Summarizing this book as "stab stab stab" is both spot on and completely inaccurate. There is definitely a lot of stabbing and killing (it's a book about assassins, what did you expect), but there's also a lot of other interesting things at play. I really enjoyed the characters and mythology of the world. For more thoughts, you can check out my review
here
!
How to Hang a Witch
Adriana Mather
How to Hang a Witch, #1
Publisher
: Knopf Books for Young Readers
Goodreads
Another witch book, but extremely different in style! While
The Graces
is more about a girl trying to join a group,
How to Hang a Witch
is about a girl who is completely ostracized by the town and hated for her ancestry. This book was such a wild mystery from start to finish, and I really enjoyed it (full review
here
). I'm looking forward to seeing what happens next.
Tell Me Three Things
Julie Buxbaum
Publisher
: Delacorte Press
Goodreads
Tell Me Three Things
was one of those books that is just really relatable even if you don't relate to the exact circumstances of the book. There were so many wonderfully written quotes in this book, and I found so much empathy for the main character. This book made me feel all the feels. For more thoughts, check out my full review
here
!
Scythe
Neal Shusterman
Arc of a Scythe, #1
Publisher
: Simon & Schuster Books for Young Readers
Goodreads
I had a feeling I would like
Scythe
just from looking at it and reading the description, but I didn't expect it to pique my interest as much as it did. Set in a post-mortality world (that's right, people don't die naturally anymore), Scythes "glean" people to keep the population in check. The way the world was built was just so interesting and really said a lot about our society in general. Definitely a great read if you like dystopian books!
Okay, this was super hard because even though I felt like I read negative three things this year I went to narrow my list down and there were like...eight million books I wanted to choose. RIP.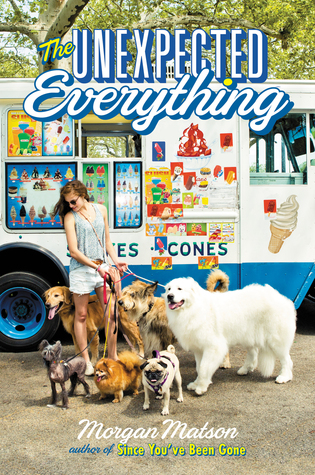 The Unexpected Everything
Morgan Matson
Publisher
: Simon & Schuster Books for Young Readers
Goodreads
I did a full
review
of this where I basically rambled for 2000 words about Morgan Matson's insane ability to develop characters and define relationships and make a 600 page novel feel like it's flying by because you just care
so
much. If you haven't read this, it's a fantastic book to get you in a summery mood, and it was definitely one of the strongest books I read this year (and a book I'll be rereading time and time again).
Lady Midnight
Cassandra Clare
The Dark Artifices, #1
Publisher
: Margaret K. McElderry Books
Goodreads
Lady Midnight
totally
killed
me. I didn't think Cassandra Clare could top
The Infernal Devices
-- the writing was so beautiful and they're set in Victorian England, one of my favorite time periods -- but every single page of this book just unraveled me seam by seam. I honestly can't believe it came out in May because it feels like I've been waiting
forever
for the second book but it's only been like seven months. Wild. Anyway, you can read my review
here
and see me freak out!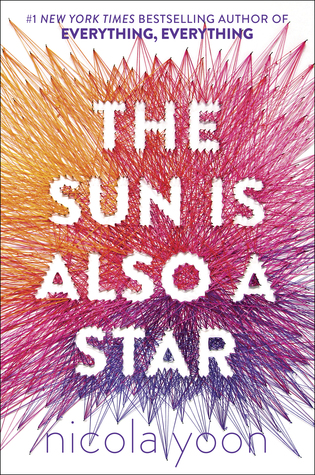 The Sun is Also a Star
Nicola Yoon
Publisher
: Delacorte Press
Goodreads
I read this in July after Kiersten got an ARC for me at BEA, and skimmed through it again in November when writing my
review
, and both times it blew me away. Nicola Yoon has a gift for wordplay and storytelling, and after giving 5/5 stars to both this book and her debut,
Everything, Everything
, she's become an author whose works I'll be excitedly anticipating in the future.
A Court of Mist and Fury
Sarah J. Maas
A Court of Thorns and Roses, #2
Publisher
: Bloomsbury USA Childrens
Goodreads
I'm sure ACOMAF made a host of Best Of 2016 lists this year and there's no reason I should disturb the status quo, right? Seriously, though, this series is the first I've read by Sarah J. Maas and it's blowing me away so far. I'm honestly a little bit afraid of what's to come in the upcoming third book (but not afraid enough to want it any less). Kiersten mentioned when discussing
The Graces
that witches are her favorite paranormal creature, and faeries are mine (tied with ghosts) and I think Maas does a phenomenal job with her faerie worldbuilding. Kiersten and I did a double review of this book that you can read
here
if you'd like!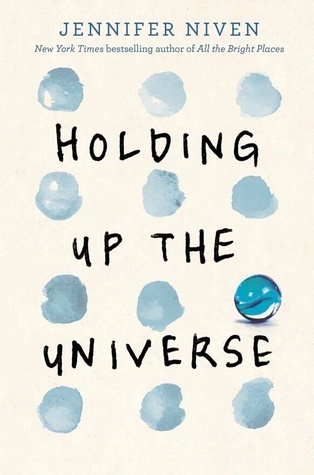 Holding Up the Universe
Jennifer Niven
Publisher
: Knopf Books for Young Readers
Goodreads
The premise of this novel sounded super intriguing -- a boy with prosopagnosia (face-blindness) and a girl who was once "America's Fattest Teen" -- united through what else but the cruelness of high schoolers. Jack and Libby, the two protagonists, ended up being so complex and so well-written that they leapt off the page (which I mention in my full review,
here
) and the story was so adorable I know it's one I'll be rereading often.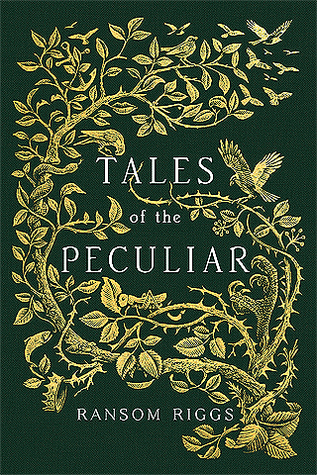 Tales of the Peculiar
Ransom Riggs
Miss Peregrine's Peculiar Children , #0.5
Publisher
: Dutton Books for Young Readers
Goodreads
I am trash and cannot go even one post without mentioning how much I love this series and I feel like this counts as a "bonus" because it's not a novel or anything and I was pressed for space as it was. Anyway, in my
review
, I explained that this is "to the Miss Peregrine's universe what Grimms' Fairy Tales are to this one." These short stories are so captivating and they're all written in such a fashion that they truly feel like an old, passed-down collection of anecdotes. This was definitely one of my favorite books to be published this year and something I quite enjoy reading often (in order or not).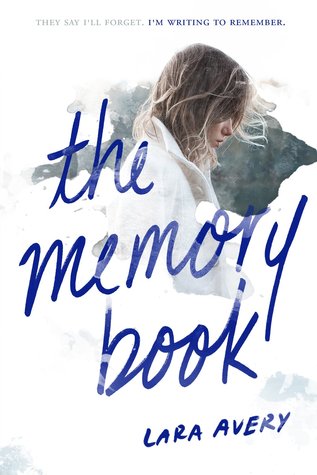 The Memory Book
Lara Avery
Publisher
: Poppy/Hachette
Goodreads
Literally, what a phenomenal book.
The Memory Book
twists YA in a way that I've never read before. The premise of this novel is that it is a diary from the narrator to herself. Sammie McCoy has just been diagnosed with a disorder that causes her to completely lose her memory -- forever. The book is so honest and the story is so hard to tell but told so well. If you want to see me ramble on forever about this you can read my full review
here
.
Small Great Things
Jodi Picoult
Publisher
: Ballantine
Goodreads
Has Jodi Picoult ever written anything I haven't loved? Honestly, I don't know how she does it but I always end up with some tears in my eyes flipping through the book as fast as possible so I can find out what happens at the end. The book is about a trial (this is Jodi, what else would you expect) and a nurse and race relations and all the good stuff.
Picking five favorites was a daunting task. 2016 was another great year in reading for me. According to Goodreads,
Listened to 105 audiobooks
Read 248 books
Added 21 books to my "Favorites" shelf
Note: I tried to pick five books that would not overlap with my fellow WLABBers.
Bittersweet
Sarina Bowen
True North, #1
Publisher
: Rennie Road Books
Goodreads
I went into this book as a solid Bowen fan, however, I was not totally sold. I mean, you don't read a lot of romance books where the hero is a farmer, but after a few chapters, I was team Griffin all the way. There was just so much to love about this book. A second chance romance, fantastic MCs, so much food, beautiful family bonds, and spectacular descriptions that pulled me right into Vermont. (
my review
)
We Are Still Tornadoes
Michael Kun and Susan Mullen
Publisher
: St. Martin's Griffin
Goodreads
First and foremost, this is an epistolary novel. I adored the format, and thought it really enhanced my enjoyment of the story. And talk about #friendshipgoals. I was so jealous of Scott and Cath's friendship! This one just really warmed my heart and made me so happy. (
my review
)
Passenger
Alexandra Bracken
Passenger, #1
Publisher
: Disney-Hyperion
Goodreads
This was also one of my early 2016 reads. In fact, I read the BEA ARC, and therefore, it is not quite the same as the finished book, but I just could not bring myself to re-read, when most of the story is still the same. With that said, I loved this book. This was my first Bracken book, and I was quite delighted with the writing. She did such a beautiful job making me feel the emotions of the characters, and the characters were so incredible. (
my review
)
The Serpent King
Jeff Zentner
Publisher
: Crown Books for Young Readers/Random House
Goodreads
This one just blew me away, and that is not something easily done by a contemporary novel. The MCs were so special and damaged and I cared so deeply for them. I am getting a case of the feels right now just thinking about it. (
my review
)
The Love That Split the World
Emily Henry
Publisher
: Razorbill
Goodreads
This was one of my first 2016 reads, and it really set the bar high for me. I loved the characters, I loved the world, I loved the story. The ending was so beautiful, that I was left sobbing. So many emotions! (
my review
)
What are some of your 2016 favorites?
Let us know in the comments!