Top Ten Tuesday is a meme hosted by
The Broke and the Bookish
. Here at We Live and Breathe Books, two of us choose five books each week. This weeks topic is...
2016 Releases We Promise to Read Soon!
(The topic was supposed to be Favorite 2016 Releases but we made a slight adjustment after Noor realized she'd barely read any books from the current year...)
Kiersten's Picks
Lady Midnight
Cassandra Clare
The Dark Artifices, #1
Goodreads
As you might have noticed through looking through some of our old posts, the WLABBers are huge Cassandra Clare fans. Despite this, I have not read
Lady Midnight
yet. (Insert shock and awe here). Since I own so many books, I've been on a sort of book buying ban, so I was waiting for
Lady Midnight
to be on the elibrary. And now it is! Hopefully by the end of the summer I will get to read it.
Glass Sword
Victoria Aveyard
Red Queen, #2
Goodreads
While I never ended up writing a review for
Red Queen
(I'm the worst), I really loved it! I've been waiting on line for
Glass Sword
on the elibrary probably since the book came out, and I'll probably be waiting for a while longer. But it's ok. Good things are worth the wait, right? (sobs quietly)
The Hidden Oracle
Rick Riordan
The Trials of Apollo, #1
Goodreads
Ok, so
The Hidden Oracle
. I really have no idea how this happened but I had absolutely no idea this book was going to be a thing until it was released. How did I miss this??? I have no idea, but I do know that I really want to read this. Not only does it revisit some friends from The Heroes of Olympus (I'm looking at you, Nico), but anything centered around Apollo is bound to be a riot, and I've heard all the chapters start with haikus. What more could you ask for?
I first heard about
The Shadow Queen
at UtopYA last summer at a panel that included C.J. Redwine. As soon as she started talking about this book, the world, the concept, etc., I knew I wanted to read it. Of course, time passed and it was shoved off my radar by school work, but hopefully I'll get to read it soon!
Exit, Pursued by a Bear
E.K. Johnston
Goodreads
While I wasn't a fan of
A Thousand Nights
, I have a feeling that the things that bored me in that book will not be a problem in
Exit, Pursued by a Bear
. Honestly, I didn't know what this book was about when I first wanted to read it, but with a cover like that and a title like
Exit, Pursued by a Bear
, it peaked my interest. I've heard a lot of good things about this one, so I definitely need to check it out.
Noor's Picks
A Court of Mist and Fury
Sarah J. Maas
A Court of Thorns and Roses, #2
Goodreads
I recently reviewed
A Court of Thorns and Roses
, which came out last year, but still haven't had a chance to read the sequel. Luckily, Kiersten is the bomb dot com and got a copy for me when she went to a Sarah J. Maas signing event so I'll probably be reading this soon. I'm hella excited, my two favorite things are faeries and retellings and these books have them both! (Note from Kiersten: I also want to read this, which is good because I have it. Yay!)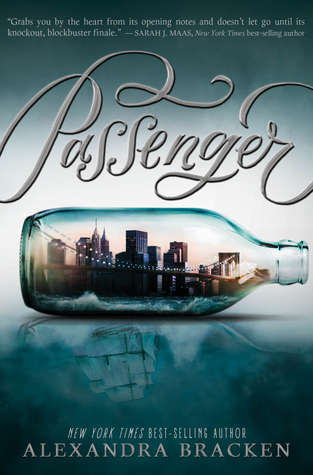 Passenger
Alexandra Bracken
Passenger, #1
Goodreads
Not gonna lie, I thought this book came out late 2015 and I honestly cannot tell you why but I saw it on a list of 2016 releases and I was like "wow look another book I should read but I still have not!!" Anyway, everything about this book sounds cool: oceans are cool, time travel is cool, boats are cool, violins are cool. I hope I can read this in a fairly timely manner (ie before the year ends)
You Know Me Well
Nina LaCour and David Levithan
Goodreads
This one just came out two weeks ago so I feel like I have a bit of an excuse for not having read it yet, but I
love love love
David Levithan's work so I'm mentally beating myself up for not even getting a copy yet. I actually hope I can read it this week when I'm getting my brain mapped and have not much else to do besides read. If any of you have read Will Grayson, Will Grayson, it's told in a similar way where one author writes one POV and the other author writes the other POV and I assume they eventually connect. I know I love David Levithan's writing and while I'm not familiar with Nina LaCour, I still think the book sounds awesome!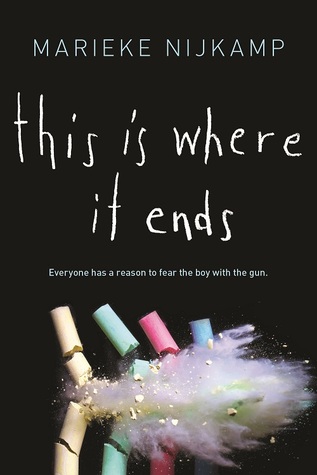 This is Where it Ends
Marieke Nijkamp
Goodreads
I put this on my June TBR in our last
Previously
post but I still haven't actually obtained a copy of the book yet...I keep seeing it pop up on Instagram mostly and it has a nice cover and a nice premise and I think if I can convince my dad to take me to B&N sometime this week I'll probably pick this up, along with the other books on this list.
Salt to the Sea
Ruta Sepetys
Goodreads
I've had like an on/off thing with wanting to read this book -- I first heard the name and saw the cover and was totally drawn in, but then I pulled away a little because historical fiction isn't really my thing and even though it sounded interesting enough I wasn't sure how much I would enjoy it personally, but now after seeing so many positive reviews I'm back on board and hopefully read this sooner rather than later.
What 2016 releases are you planning to read?
Let us know in the comments!