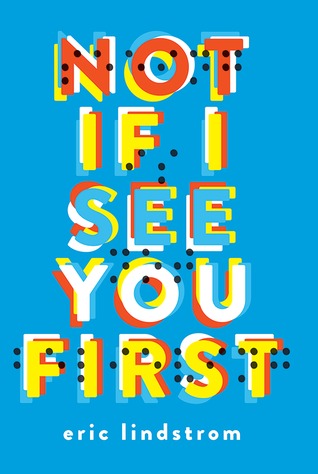 Not If I See You First
Eric Lindstorm
Series
: N/A
Genre
: Young Adult, Contemporary
Publisher
: Poppy
Rating
: 5 out of 5 stars
Goodreads
Ya'll, I told you I'd be back with a good review, and this one is the real deal.
Not If I See You First
is SO good!!! Not only is this the first book I've read with a blind protagonist, but this book is diverse without shoving it in your face, and honestly does the unlikeable-protagonist thing damn well. Lets talk specifics:
Parker Grant is in high school and her voice is snarky and unlikeable and honestly, just like an actual teenager which is so hard to find anywhere. I loved how brusque she was, I genuinely don't like when characters or perfect or come with just one overwhelming hamartia. Parker's voice feels so real to me - as a snarky teenage girl myself I can attest that the writing of not only her voice, but all the characters voices was on key to what you'd find in any high school.
Now that you know that about the protagonist, and you've also found out that she is blind, let's talk a little more about the plot: Parker was blinded 10 years ago in a car accident and lost her mother, and at the very beginning of this book loses her father. She lives now with some of her relatives who she's not a fan of -- she's kind of a jerk to them but honestly given the circumstances of her father just dying and them not obeying "the rules" (to be discussed later) I really liked how her relationship with them was portrayed.
All the supporting characters were pretty fleshed out too, but in a way that shows them from Parker's point of view. So much of the book is about Parker's journey without seeming overly melodramatic -- the plot is simple and doesn't cover an extremely long period of time and covers a lot of character development. I'm not really sure how else to say this other than just /read/ /the/ /book/. READ IT. I'm sorry this review is so short but it's really hard for me to talk about this without spoiling literally everything. Read the book. It's fantastic. Can't wait to read more from Eric Lindstrom!
- Amrutha
What's a rule you have about your life?
Let us know in the comments!