Waiting on Wednesday is a weekly event hosted by
Breaking the Spine
that spotlights upcoming releases that we're eagerly anticipating.
This week I'm waiting on
The Hate U Give
by Angie Thomas!
Before I begin my ~post~ I'd like to insert a ~formal apology~ for not posting for...a month. (Let's not talk about the frequency of these apologies and just appreciate that I Care.) The excuse is the same as always: school, grades, finals, etc. My last final is actually tomorrow (today by the time this is posted) which of course means I'm Not Studying and writing this post instead but also means that I'll have winter break to read and write reviews and actually blog like a human with a life that doesn't revolve around school!!! Anyway, I wanted to do this Waiting on Wednesday post partly to procrastinate and partly to liven the blog up a lil and partly because this book sounds hella cool and I just wanted to talk about it!! Anyway here we go: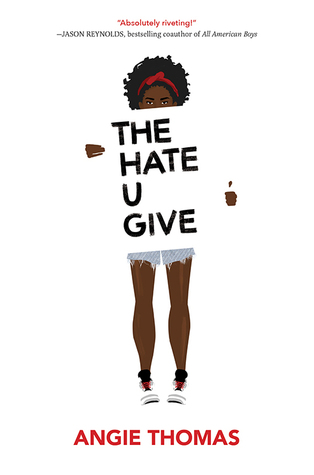 The Hate U Give
Angie Thomas
Series:
N/A
Release Date:
February 28th, 2017
Publisher:
Balzer + Bray
Waited on by:
Noor
Goodreads
Sixteen-year-old Starr lives in two worlds: the poor neighbourhood where she was born and raised and her posh high school in the suburbs. The uneasy balance between them is shattered when Starr is the only witness to the fatal shooting of her unarmed best friend, Khalil, by a police officer. Now what Starr says could destroy her community. It could also get her killed. Inspired by the Black Lives Matter movement, this is a powerful and gripping YA novel about one girl's struggle for justice. Movie rights have been sold to Fox, with Amandla Stenberg (The Hunger Games) to star.
There's been a lot of discussion about #ownvoices lately -- authors of diverse/marginalized groups writing books featuring characters representing those same groups -- and this is a great example of one! Angie Thomas is a black author whose book features a black young adult protagonist. The themes described in the blurb are not only timely to our current societal issues but make for an interesting plot. I've seen this book promoted on Twitter a few times -- which is how I first heard of it -- so I hope it'll end up being a well-written, enjoyable debut. Also, two side comments before I leave: 1. this cover is hella cute and I'm hella feelin it and 2. I saw it was a February release and I was like "Okay, cool, that's like a month and a half, that's so soon," but it's the END of February, literally the LAST DAY of the month.
Let us know in the comments!