Top Ten Tuesday is a meme hosted by
The Broke and the Bookish
. Here at We Live and Breathe Books, two of us choose five books each week. This weeks topic is...
Books that have been on your TBR since before you started blogging!
WLABB has been around for 3+ years, so this is going to be a little embarrassing. There are so many books I've wanted to read since before I started blogging, but for this list, I'll be sorting my Goodreads shelf by date added and including the top five!
The Night Circus
Erin Morgenstern
Goodreads
This is the actual first book that I ever added to a shelf on Goodreads. I'm not sure how I stumbled upon it, but I know that since I got Goodreads, I've always wanted to read it. In the past, Marlon and Noor have both written glowing reviews of
The Night Circus
, but I still haven't gotten around to it.
Miss Peregrine's Home For Peculiar Children
Ransom Riggs
Miss Peregrine's Home For Peculiar Children
Goodreads
I really have no excuse for this one because I own this book. I don't know why I keep putting it off. I'm hoping to have time to read this before the movie comes out, but knowing my school schedule, I won't have time to read the book or see the movie. Hoping for the best!
Looking for Alaska
John Green
Goodreads
I've been really slow at reading John Green books. I'm not much of a contemporary reader, so even though I've heard great things about his books and I've enjoyed the two that I've read, these just don't end up being a reading priority for me.
This is another book where I have absolutely no excuse for not reading yet. I've heard this series is really amazing, and I really do want to read it soon! Also,
Strange the Dreamer
sounds so amazing, so either way, I will definitely read a Laini Taylor book in the next year. I must!
Starling
Lesley Livingston
Starling, #1
Honestly, when I saw this on my TBR on Goodreads, I was only vaguely aware of adding it, but I didn't even remember what it was about (which isn't rare for me, but still). I read over the description again before adding it to this list, and it sounds really great. Maybe I'll get around to reading it sometime in this lifetime.
I am really bad at procrastinating reading books. I can have a book I want to read so intensely and then just...not read it. For months. Years. My entire life!!!! Like Kiersten mentioned, we've been around over three years so it's probably a little sad that I still haven't gotten around to reading these but it's not for lack of interest!! Just lack of action (like me taking action, not action that happens in the book). I am going to make a vow to finally read the books on this list within the next six months.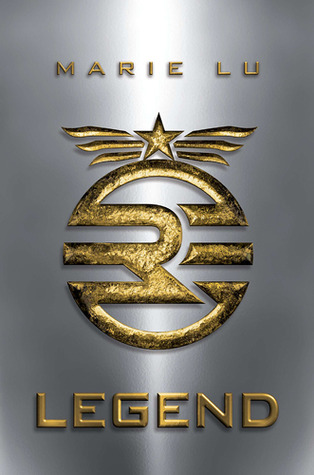 Legend
Marie Lu
Legend, #1
Goodreads
Okay, so I'm not a very organized person and so I don't really keep track of my TBR other than noticing a book looks cool and making a mental note to eventually read it (much to the dismay of Kiersten, who thinks we should all utilize our Goodreads as much as possible). If I remember correctly, I made the mental note to read
Legend
back in high school (around winter 2012-2013) which was definitely before we started blogging. I own both
Legend
and
Prodigy
so there's really no excuse and I have no idea why I reach for other books when I could reach for this one and finally read it, but here we are.
Shatter Me
Tahereh Mafi
Shatter Me, #1
Goodreads
I have wanted to read
Shatter Me
forever
.
I'm highkey obsessed with Tahereh Mafi as a person -- her Instagram, her
other
Instagram, her marriage to Ransom Riggs (one of my favorite authors) and I feel totally fake doing so without having read any of her books but I just keep putting it off???? I've heard so many good things about the writing style of this one and I actually think I'm gonna prioritize it to be read sometime soon, especially since her book
Furthermore
(that Kiersten just
reviewed
) is coming out next week and if I read that I'll probably just be ~in the zone~ and read this too.
Fragments
Dan Wells
Partials Sequence, #2
Goodreads
This is one of the most ridiculous ones on this list. So
Partials
, the first book in the series, came out in
2012
and I read it maybe a month after it came out after seeing it in like the New Releases section of my Nook. And I
really
really loved it, I thought it was one of the best ~post-apocalyptic dystopian robot fiction~ books I'd ever read (that description makes it sound like A Mess but it really isn't, I highly recommend it). And obviously since I read it so soon after the release, there was no sequel. So I patiently waited and then, when the sequel
did
come out, I just
didn't
read it??? I honestly can't tell you why. I own it and everything. And the worst part? The
third
book came out too, and I
still
haven't even read the
second
book!!!!! Why am I like this!!!!!!!
Scarlet
Marissa Meyer
The Lunar Chronicles, #2
Goodreads
Okay, so you know how I said
Fragments
was one of the most ridiculous ones on this list? This is
the
most ridiculous one on this list. I read
Cinder
a few months after it was published and totally fell in love with it. I lovelovelove fairytale retellings and I was so enamored with the way this story was told. I made sure to keep this series on my radar so I'd know about sequels. And yet, five more books (and like five million mini-stories) later, guess who has still only read that first one? I am absolutely The Worst.
Scarlet
is actually one of the books I plan to read relatively soon but I'm so ashamed I didn't read it when it actually came out and keep up with the series.
Fire
Kristin Cashore
Graceling Realm, #2
Goodreads
I actually bought
Graceling
,
Cinder
, and
Partials
all at the same time when I went to Boston and we visited a really nice bookstore. I think it was the fact that I was reading all those books I'd bought one after the other that the thought of reading the sequel fell by the wayside. And then I impulsively bought
Bitterblue
one day because I saw the words "companion novel" on the cover but I realized it was the companion to
this
book so once I get around to purchasing it I will finally finish this series.
What books have been on your TBR the longest?
Let us know in the comments!