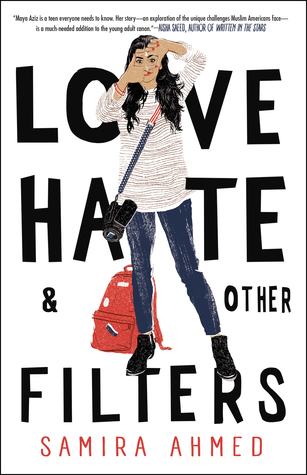 Love, Hate, and Other Filters
Samira Ahmed
Series
: N/A
Genre
: Young Adult, Contemporary, Romance
Publisher
: Soho Teen
Rating
: 2.5 out of 5 stars
Goodreads
A searing #OwnVoices coming-of-age debut in which an Indian-American Muslim teen confronts Islamophobia and a reality she can neither explain nor escape--perfect for fans of Angie Thomas, Jacqueline Woodson, and Adam Silvera.

American-born seventeen-year-old Maya Aziz is torn between worlds. There's the proper one her parents expect for their good Indian daughter: attending a college close to their suburban Chicago home, and being paired off with an older Muslim boy her mom deems "suitable." And then there is the world of her dreams: going to film school and living in New York City—and maybe (just maybe) pursuing a boy she's known from afar since grade school, a boy who's finally falling into her orbit at school.

There's also the real world, beyond Maya's control. In the aftermath of a horrific crime perpetrated hundreds of miles away, her life is turned upside down. The community she's known since birth becomes unrecognizable; neighbors and classmates alike are consumed with fear, bigotry, and hatred. Ultimately, Maya must find the strength within to determine where she truly belongs.
So Kiersten picked up an ARC of this for me at BEA (which I sadly could not attend because I'm a trash human) and I ended up reading it a few months ago during a brief one-day break between writing papers and taking exams (RIP), looking for a short, cutesy contemporary romance to dull the ache of higher education. I was super excited to read this because I'm always here for #ownvoices narratives, and this is about a South Asian Muslim teen, which is also a narrative I specifically relate to, so that's lit. Also, I just love cute, cheesy, contemporary romances that exist solely to push adorkable love triangles. Give me all the dazzling-smiled love interests you have — I am HERE for it.
Basically, I wanted to
love
this book.
And yet, as much as I was looking forward to this book, I felt disappointed after finishing it. I couldn't pinpoint exactly why at first -- there WERE a few parts I found myself genuinely excited by. I realized quickly, though, that all the characters just felt flat, like caricatures rather than three dimensional people. Maya's best friend was the Cool Girl, her bae was the Nice Boy, and even though she was the protagonist and was a little more fleshed out than the others, she didn't actually face any internal conflict or growth. The conflict came from her hiding her decisions from her parents. She wasn't any different at the end of the book than she was at the start.
Also, another weird feeling I had actually calls back to an article I read about secular Muslims and Hollywood. I'll link it for you
here
but tldr: Hollywood (and by extension, other forms of media like books) 1. only finds Muslims palatable when they're not vocal about it and 2. ignores the fact that Muslims aren't a monolith — the author of the article writes, "The thing is, some Muslims go to mosque and then the club. Some break fast and celebrate Eid with whiskey." Meanwhile, in this book, it felt like Samira Ahmed decided that since Maya was going to be a "rebellious teen," she would abandon any religious identity altogether. And it's not like I wanted Maya to be going to the mosque five times a day and only hanging out with other Muslim people and replacing all her movie posters with inspirational Quran verses. Those aren't things I'd do either. I just think, if your parents are so overbearingly religious as Maya's are portrayed to be, and have been pushing one narrative onto their child for her whole life, it might make sense for her to grapple with the guilt of defiance. It would also have added a depth to Maya's character that we really didn't get to see. In fact, I wish we got a look into ANY of Maya's actual thoughts and her perspective, rather than just "my parents are smothering me ugh Indian parents are The Worst."
And honestly, I think if the book had three-dimensional characters or a more solid plot structure, I wouldn't have felt like this was as big of a thing; like I could have chalked it up to a small part of her characterization I didn't like. But because there's so little holding this book together, it felt like it was screaming at me. Speaking of plot, the back cover made this sound very different from what it turned out to be. The book is marketed as Maya's confrontation of racism after a terrorist attack (with some romance on the side). Instead, it is a romance, and the racism parts are 1. cheesy, 2. so minute they're almost forgettable. Also, I already mentioned she doesn't really go through any character development so you can strike "coming-of-age" off the list too.
There were some cute parts throughout the mediocre characterization. As unrealistically Cute and Flawless as her bae was, he was adorable, and I definitely smiled throughout their budding relationship. The book was super fluffy but I'm a big supporter of fluff (though I usually prefer it in addition to plot). Samira Ahmed is also definitely not a bad writer! I hope to see her next book evolve and succeed.
As a child, what was your parents' harshest rule?
Let us know in the comments!