Waiting on Wednesday is a weekly event hosted by
Breaking the Spine
that spotlights upcoming releases that we're eagerly anticipating.
This week I'm waiting on
The Sword of Summer
by Rick Riordan!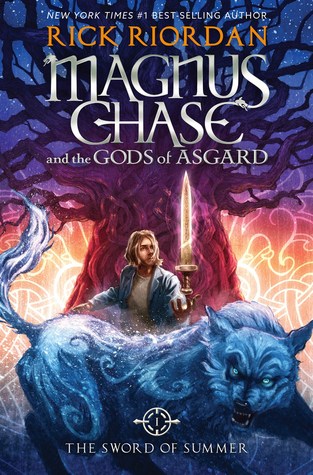 The Sword of Summer
Rick Riordan
Series:
Magnus Chase and the Gods of Asgard #1
Release Date:
October 6th, 2015
Publisher:
Disney Hyperion Books
Waited on by:
Marlon
Magnus Chase has always been a troubled kid. Since his mother's mysterious death, he's lived alone on the streets of Boston, surviving by his wits, keeping one step ahead of the police and the truant officers.

One day, he's tracked down by a man he's never met—a man his mother claimed was dangerous. The man tells him an impossible secret: Magnus is the son of a Norse god.

The Viking myths are true. The gods of Asgard are preparing for war. Trolls, giants and worse monsters are stirring for doomsday. To prevent Ragnarok, Magnus must search the Nine Worlds for a weapon that has been lost for thousands of years.

When an attack by fire giants forces him to choose between his own safety and the lives of hundreds of innocents, Magnus makes a fatal decision.

Sometimes, the only way to start a new life is to die . . .
IT'S ON PEOPLE.
IT'S FINALLY COMING.
Okay, look. Some of you may have outgrown Rick Riordan or have gotten lost in the endless novels about gods he has been tossing out. But this book sounds incredible. Magnus is a homeless teenager trying to keep ahead of the police? I have always wanted a half-blood adventure from Annabeth or Luke detailing in full Riordan prose how difficult it was to survive on their own, homeless. I now can live that dream. If continuing to love Rick Riordan is trash, I am a garbage dump because this man is my hero. While his books always do have some problems, they've so far been decent in areas like ethnic representation and religious views, and they have always kept their charm, entertainment, and above all moral value as children's books (even when that gets in the way of more . . . mature shipping of certain characters on certain ships who just happen to "talk" all night). Riordan was my teenage-hood, and I'll probably be reading his books until I am dead.
I can't wait!
Let us know in the comments!