Often times, the bloggers of We Live and Breathe Books read ARCs of books a long time before they are released. While we like to post our reviews relatively close to the release date, sometimes we get really excited and want to share some of our thoughts right away. As a result, we've decided to start doing Save the Date, an awesome feature created by
Jamie at The Perpetual Page-Turner
. Even though the book doesn't come out for a while, it's never too early to save the (release) date!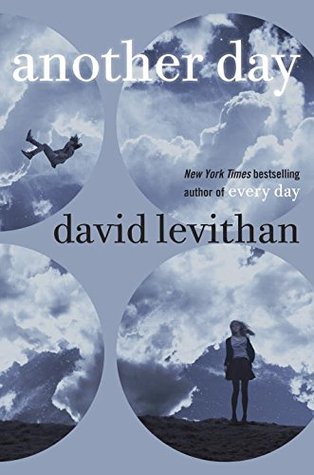 Another Day
David Levithan
Series
: Every Day, #2
Genre
: Young Adult, Contemporary
Release Date
: August 25th, 2015
Publisher
: Alfred A. Knopf Books for Young Readers
Goodreads
|
Amazon
|
Book Depository
What Another Day is about
The eagerly anticipated companion to David Levithan's New York Times bestseller Every Day.
In this enthralling companion to his New York Times bestseller Every Day, David Levithan (co-author of Will Grayson, Will Grayson with John Green) tells Rhiannon's side of the story as she seeks to discover the truth about love and how it can change you.
Every day is the same for Rhiannon. She has accepted her life, convinced herself that she deserves her distant, temperamental boyfriend, Justin, even established guidelines by which to live: Don't be too needy. Avoid upsetting him. Never get your hopes up.
Until the morning everything changes. Justin seems to see her, to want to be with her for the first time, and they share a perfect day—a perfect day Justin doesn't remember the next morning. Confused, depressed, and desperate for another day as great as that one, Rhiannon starts questioning everything. Then, one day, a stranger tells her that the Justin she spent that day with, the one who made her feel like a real person . . . wasn't Justin at all.
Five Reasons to Save the Date for Another Day
1. It gives a fresh, new perspective on the story in
Every Day.
Note: Even though, this is a companion novel and not a sequel, I definitely recommend reading
Every Day
first (in general I just personally like to read the book that came out first, first). Anyway, reading Rhiannon's thoughts on what went down was refreshing.
2. You get to see the side to Rhiannon and Justin you missed in
Every Day
and learn about how it's not as simple as picking one person over another and how even Justin has depth.
3. David Levithan explores themes of how if you're emotionally attracted and invested in someone, physical manifestations of that person's body can change feelings you have -- a "Beyonce body" intimidated Rhiannon; she kissed the cute redheaded boy; that she wasn't holding A's hand when A was a "pudgy Indian girl." Rhiannon goes through this internal conflict where she wishes A was just always a boy or she could think of A as such and then gets angry with herself for not being able to reconcile her life experiences with the fact that A is "both and neither, and it's not A's fault our language can' deal with that." Rhiannon wants "to undo this. [She] understand[s] it's the wrong way to feel. But it doesn't feel like a knot [she] can actually untie." So it's interesting to see the way she struggles with the different bodies and fighting all the beliefs she's internalized in the 16 years of her life.
4. Both A and Rhiannon hate
The Giving Tree
. I have very very strong feelings about
The Giving Tree
and why I hate it (it's led to twitter rants and real life rants alike) so to find characters who vocalize this shared hatred in a book is wonderful.
5. Whether you like the ending or not, I guarantee you will have an opinion about it and I think that's a great reason to save the date. Saying as much as I can without being spoiler, the like/dislike question stems from an issue of ambiguity and I'm sure anyone reading will have their own thoughts on it.
Who Should Save the Date
Fans of David Levithan, people who have read (and liked)
Every Day
, character-based readers
A Sneak Peek
Here's a quote I really liked:
"Most of the time when we think we're looking for death, we're really looking for love."
Also, another, short line I liked is a thought Rhiannon had in response to a question she asked A:
"I cannot wear that answer. It can't possibly fit."
That's all for now, keep reading to learn about our giveaway and watch for a review closer to the release date!
- Noor
Since this is our very first Save the Date, and, more importantly, because we picked up an extra copy at BEA, we've decided to giveaway an ARC or
Another Day
to one lucky reader!
To enter, all you have to do is fill out the Rafflecopter below. The giveaway is open US only, unless you are willing to pay the shipping, and is open through July 2nd. You must be 13 or older to enter or have a parent enter for you. The winner will be selected shortly after and will have 48 hours to respond before a new winner is selected. We are not responsible for any prizes that are lost in the mail.
a Rafflecopter giveaway
We hope you're lucky enough that you won't need to save the date for this one!