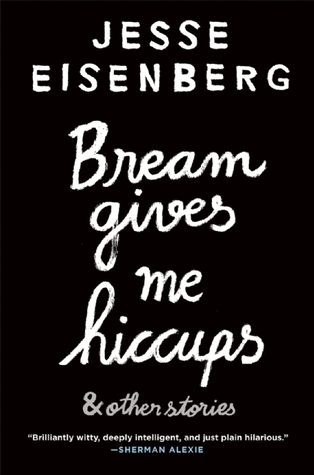 Bream Gives Me Hiccups
Jesse Eisenberg
Series
: N/A
Genre
: Short Stories, Humor, Satire
Release Date
: September 8th, 2015
Publisher
: Grove Press
Rating
: 2000 out of 2000 stars
Goodreads
|
Amazon
|
Book Depository
Thanks to Grove Press for providing me with an ARC at BEA and thanks Jesse Eisenberg for fulfilling a five-year long dream of getting a selfie with you.
I'm always a little bitter when people are talented in more than one aspect of their lives while the most I can offer are sentence composition skills that rival those of my eight year old sister. Jesse Eisenberg has proven to be one of these people -- not only is he a successful actor (his role in my all-time favorite movie,
The Social Network
, was a huge reason why I wanted to meet him), but a clever writer as well.
The first section of short stories are "Restaurant Reviews From a Privileged Nine-Year Old" where said nine-year old rates everything out of 2000 stars, which is why I decided to stray from our traditional 5 star rating system for this review, although I'm sure my rating will be easy to convert. This section was one of the best ones and definitely a strong opening. Our narrator had this distinct, knowing sort of voice, but the innocence of being a kid still showed through and Eisenberg very much captured the essence of writing through the lens of a child. Also, even though the book is humorous and all the chapters, this one included, are riddled with sarcasm and lightness, there are still touches of sincerity and emotion, and although they're written with the satirical style of the book, they're still sweet. And that little boy is a sharp one. This is one of my favorite comments of his:
"I told mom that I didn't want to lie to the hotel people, but Mom said it was okay in this case because it was just a white lie, which I guess is a lie that white people are allowed to say without feeling guilty."
This chapter was tied for my favorite with "My Roommate Stole My Ramen: Letters From a Frustrated Freshman." This one is written in a completely different voice, but maintains the same sarcastic, satirical tone so it maintains this sense of cohesiveness. That's one of the things I liked a lot about this book. I wasn't sure how it would read, considering it was a book of short stories, and I thought it might just be a series of disconnected stories, and therefore the tone and voice and everything would shift enough per story that it would be like reading a series of completely different books all in a row. But remember that feeling of cohesiveness I mentioned before? That was there for the entirety of the book.
Even though the content changed -- there were stories told in just run on sentences lasting a paragraph and stories told in dialogue formatted like a screenplay and stories told through email and texts -- there was a way it was told that didn't. The voice changed, which I expected it to and wanted it to, because different stories called for different things. I wouldn't have wanted the college student studying the Bosnian genocide to sound just like the guy on acid trying to pick up a woman at a bar -- that just wouldn't have been good writing. However, as I mentioned before, the wit and the humor carry through and there's a certain tone about the pieces that is clearly Eisenberg's distinct style showing through.
Also, it was a fun time when thing mentioned in one story made their way into another, sort of like a tiny little in-joke, such as using "The Rotting Tree" as a location in more than one story. Anyway, the book wonderfully showcases the wit of Jesse Eisenberg and the writing was cutting and entertaining. This is definitely a book I'll be reading again.
What's the funniest book you've read?
Let us know in the comments!