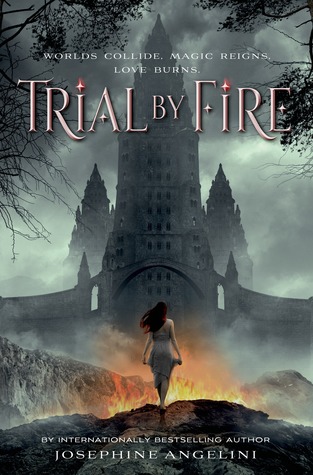 Trial by Fire
Josephine Angelini
Series:
The Worldwalker Trilogy, #1
Genre
: Fantasy, Paranormal, Young Adult
Release Date
: September 2, 2014
Rating
: 3.5 out of 5 stars
Word Rating
: Something different
Goodreads
|
Amazon
|
Book Depository
I picked up a signed ARC of this book at BEA this year after immediately being drawn in by the premise. A young girl, Lily, who suffers from life-threatheting allergies that keep her from doing anything and everything lives in present day Salem, a normal, every-day town. Until she gets transported to a different Salem in which there's a different version of Lily, who is powerful and evil and cruel. Also there are witches and things, how cool does that sound?
Anyway, the very beginning of the book was honestly kindof disappointing and I really thought I was going to be in for something cringe-worthy but once you get past the part where she's in normal Salem and gets to witchy-Salem, it gets exponentially better so just hang in for those first two chapters. They're only 40 pages out of the 374 the book possesses but they are probably the weakest point of the book and definitely do not showcase Angelini's writing abilities at all. I thought the descriptive technique and the writing style itself was just off and lacking in these two parts, especially the way she described the characters' appearances. Also, I wasn't a fan of what was going on, with the whole typical being in love with your best friend and then him noticing you and then hurting you scene, it all just felt so dramatic and made the book seem like it was going in a different direction than it was and I'm really glad those two chapters weren't representative of the rest of the book.
It's clear that once she started worldbuilding, Josephine Angelini really got into her element because as soon as Lily goes from her Salem into the other Salem, the writing gets so much better. The writing itself increases in quality and the descriptions flow better and really help set the tone of the world and what's about to happen. I enjoyed how the book felt very paranormal but also historical at the same time which had a lot to do with its being set in Salem and everything thats associated with it. Also, going back to the worldbuilding, she did a good job of not just adding typical witch tropes, and adding in things that would make her book different, such as the concept of willstones, which I thought was one of my favorite parts.
The characters were all very interesting as well, especially the ones we see exist in both worlds. I definitely really enjoyed Rowan but I don't think that's a stretch to say. Lillian was also one of my favorites to read because of how fleshed out she was. I think some of the minor characters were a little too two-dimensional even for minor characters but that wasn't a huge hindrance to the way the book read.
Overall, I definitely enjoyed the book a lot more than I thought I would from just the beginning and I think it was refreshingly different from a lot of other paranormal, witchy books out there!
Kiersten's Review of Trial by Fire
Rating: 4.5 out of 5 stars
Word Rating: Extremely well thought out
While attending BEA this year, I decided to pick up an ARC of
Trial by Fire
after reading the description - the idea of a Salem witch trial retelling definitely intrigued me.
After a few months between first reading the description and actually starting the book, imagine my surprise when the first glimpse into this world was to that of Lily Proctor, a modern day girl with really bad allergies. What? This was not what I signed up for. However, as slow as the portion of the book that takes place in modern time is, the story gets infinitely better when Lily gets sent to a world of magic and witches.
The thing that is the most impressive about
Trial by Fire
is indubitably the world that Josephine Angelini builds throughout the book. While reading it, I could not get over how much thought went into this story - the background of the concept is just so well rounded out. Josephine Angelini thought of everything, from how magic works to the social order to what magic can do.
Besides the incredible world building, I thoroughly enjoyed the main characters.
Lily has a great sense of humor throughout the story. Her modern references juxtaposed with a bunch of people who don't understand them was truly comical. Besides that, Lily is an overall well balanced character. She is a character who is well balanced between being willing to sacrifice for the greater good and being worried about her own interests. She can be strong, and she can be weak; she can be brave, and she can be cowardly. Lily has so many dimensions, making her feel so real - she's put in such an odd position throughout the story, and I really enjoyed seeing her grow into the role she chose to play.
Besides Lily, Rowan is AWESOME. I loved seeing the dynamic between Rowan and Lily throughout the story. Even though Rowan isn't thrown into a different world that he has to adjust to, he's still put in an awkward position when he has to watch over ex-girlfriend's alternate world persona. Yes, it is as complicated as it sounds.
All in all, I really liked
Trial by Fire
! While it was far from the fastest paced story in the beginning, once it got going, I really got into it and loved it. The enormity of Josephine Angelini's idea is something I can barely wrap my mind around because it is so complex and well developed. I absolutely cannot wait to get my hands on the next book - I can already tell this wait will be too long!
- Kiersten
What would an alternate version of you be like?
Let us know in the comments!